IMPORTANT - Please note our NEW schedule now has ferry service departing from & returning to Jolly Harbour on Wednesday's & Friday's.
Take a Tour With Us
Day Tours depart from St. John's Harbour on Tuesday, Thursday and Saturday.
Day Tours also depart from Jolly Harbour on Wednesday and Friday.
Visit Barbuda, Antigua's Sister Isle & one of the few unspoiled islands left in the Caribbean:
1. Largest Frigate Bird Colony outside the Galapagos
2. Miles of Pristine White & Pink Sand Beaches
3. Wild East Coast & Caves at Two Foot Bay National Park
4. Catered Lunch at the newly built Hillside View Bar & Grill at Two Foot Bay
5. Warm water Snorkeling at Coral Group Bay (snorkels are NOT provided, but you are welcome to bring your own!)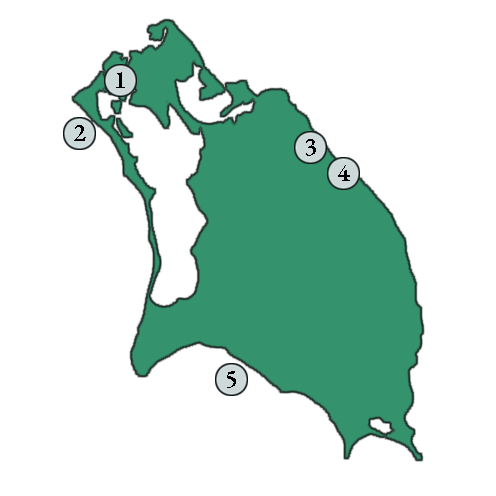 Barbuda Day Tour
Your Barbuda Day Tour adventure departs on Tuesday & Thursday and Saturday at 6:30am from St. John's Harbour. There are no tours on Monday, Wednesday, Friay or Sunday.
Barbuda Express has partnered with Hillside Tours for the on-island part of the tour for the last 3 years. It is important to understand that the road system all over Barduda is basic and in many cases roads are unpaved.
On arrival in Barbuda, there is a 25 minute taxi ride to catch the small boat ride to your first stop - The Frigate Bird Sanctuary. Along the way, you will spot the historic Martello Tower.
The Frigate Bird Sanctuary is the largest and most magnificent in the western hemisphere. This sanctuary is only accessible by small boats with a knowledgeable tour guide. Enjoy the drumming sound of the Frigate Birds and watch out for any turtles. From the bird sanctuary your next adventure is a quick stop at the Pink Sand beach. Please note that pink sand is seasonal and dependent on sea conditions. This part of the tour is approximately 1.5 hours.
After your return across the lagoon to Codrington Village, you will take a short 20 minute taxi ride to the open Caves at Two Foot Bay National Park.
Catered lunch will be served at Hillside View Bar & Grill at Two Foot Bay. We highly recommend indulging in freshly caught Barbudan seafood. It is very IMPORTANT that you provide us with your lunch preference when making your tour booking. After lunch, it is snorkeling and beach time at Coral Group Bay. This drive is approximately 30 minutes.
We kindly ask you to let us know about your meal preferences:
• Fresh Barbudan lobster with a garlic/lemon sauce (U$10.00 extra) - NOT AVAILABLE from May 1st to June 30th
• Fresh Barbudan "Catch of the day" with a creole sauce
• Grilled barbecued chicken
• Vegetarian - Curried chickpeas or sautéed tofu with coconut basmati rice and garden salad
No lobsters available during Lobster Mating Season - May 1 to June 30.
Barbuda Express departs at 6:30am, check-in time is at 6:00am. We are located at the bottom of High St, in St John's Harbor.
We look forward to welcoming you on-board and to hear about your lunch!
Ticket Type
Price
Adults
US $210 (incl. booking fee)
Children
(3 - 11)
US $135 (incl. booking fee)
Children
(0 - 2)
Complimentary
Book Now
If you would like the optional Lobster Lunch, there is an extra US$10.00 charge, payable in cash at the time of the tour.
Effective October 31, 2023
Taxis
For those who would like to adventure Barbuda on their own, taxis are also available.
Francis Antonio
+1 (268) 725-8807
fantonio.jjj @ gmail.com
Theodore Desuza
+1 (268) 781-1481
theodoredesuza @ gmail.com
Imran Thomas
+1 (268) 726-0946
Levi John
+1 (268) 788-5378