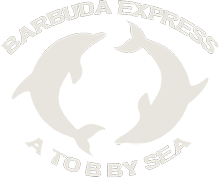 Group Fares
Barbuda Express can offer group fares for a minimum of 12 persons.
For details and further information please contact us directly at:
Personal WhatsApp: +1 (268) 764-6818
Mobile: +1 (268) 764-2291
Office: +1 (268) 560-7989
Take a Tour With Us
Our Day Tours depart from St. John's Harbour on Tuesdays and Thursdays.
Visit Barbuda, Antigua's Sister Isle & one of the few unspoiled islands left in the Caribbean:
• Miles of Pristine White & Pink Sand Beaches
• Wild East Coast & Caves at Two Foot Bay
• Unsurpassed Diving / Snorkeling (snorkels are not provided)
• Lunch at the newly built Hillside View Bar & Grill at Two Foot Bay
• Largest Frigate Bird Colony outside the Galapagos
• Two-foot Bay / National Park
• Swim time at the stunning Princess Diana Beach
Barbuda Day Tour
Our Barbuda Day Tour departs on Tuesdays and Thursdays at 7:00am from St. John's Harbour. There are no tours on Mondays, Wednesdays, Fridays, Saturdays or Sundays. The journey time to Barbuda takes 90 minutes. Once in Barbuda, you will be greeted by your local tour guide. After a short taxi ride to Codrington Village, you will be heading to the home of the largest Frigate Bird Colony in the western hemisphere. This Colony is located in the Codrington Lagoon, and is only accessible by boat with a knowledgeable tour guide. The open caves at Two Foot Bay, situated on the tempestuous, stunning East coast of the island is your second destination, absolutely breathtaking sightseeing.
Lunch will be served at Hillside View Bar & Grill at Two Foot bay National Park. Lobsters are best as they are all caught locally, as well as fish and conchs. After lunch, enjoy a last swim at the world-renowned Princess Diana Beach before returning to the ferry. Time to say goodbye!
No lobsters available during Lobster Mating Season - May 1 to June 30.
Ticket Type
Price
Adults
US $159
Children
(3 - 12)
US $100
Children
(0 - 2)
Complimentary
- IMPORTANT!!! - There is a US$5.00 charge payable in cash directly to the Barbuda Council as entrance fee to the Bird Sanctuary.
If you would like the optional Lobster Lunch, there is an extra US$10.00 charge, payable in cash at the time of the tour.
Effective May 11, 2021
Important Information
Effective April 08, 2021
Baggage allowance is limited to 2 pieces per fare-paying passenger (plus personal hand bag).
If you need to travel with more than 2 pieces of baggage, there will be a surcharge!
Please note our credit/debit card machine is in XCD (Eastern Caribbean $).
There is a 4.5% surcharge if paying by credit card.
There is an extra charge for Bird Sanctuary Entrance Fee - US$5 (Adults) and US$2 (Children) payable in cash when taking the Tour.
There is an extra charge for Caves Entrance Fee - US$2 (Adults) payable in cash when taking the Tour.
Children free up to 11 years.